There are structures that have been regarded as "miracle" from ancient times. When, who, for what, and how did they make them?
There are many hypotheses on their origins, including mythology.
Even when approached with human commonsense or modern science, there are no clear answers yet.
Since Tachibana Nankei, a doctor from the Edo Period, described them in his book as 'three miracles', they are called "Three Great Miracles of Japan",
and they continue to fascinate people through the eons.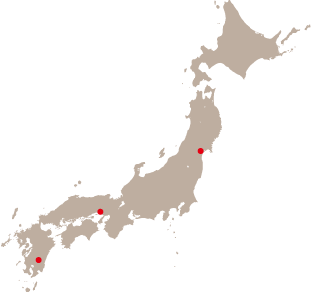 Large rock with its 3 sides surrounded by bedrock. As it appears to be floating on water, it is also called "Floating Rock", and it is worshiped as a holy rock at Oushiko Shrine. According to "Harima no Kuni Fudoki", the first document on Ishino Houden, it was established in the era of Shotoku Taishi by Mononobe no Moriya. However, that theory contradicts other indications of the time it was made, and its true origin is still unknown. There are more than 40 hypotheses on the history of Ishino Houden, including myths, and it continues to fascinate visitors.



Tatsuyama Ishi, which is quarried in Takasago, is a stone material with a long history.
It has been quarried for over 1700 years since the Kofun period.
As it was used for stone coffin, mostly for powerful figures, in the ancient time, it has been called "Stone of the Kings".
Today, it is widely used in architecture and gardening, for instance for building foundation or stone wall.
The character of Tatsuyama Ishi, such as its hardness, is even, and it is soft and has few joints, it is easy to quarry and process. There are 3 types of Tatsuyama Ishi, namely Blue (Blue Dragon Stone), Yellow (Yellow Dragon Stone), and Red (Red Dragon Stone). Red is especially rare and valuable.
This soft coloring and its smooth texture are the charms of Tatsuyama Ishi.